Eclectic, earthen and funky are some of the adjectives that can be used to describe tribal jewelry, while arty, refined and evergreen can be used to describe ethnic jewelry. Even in the olden days, the tribes used every imaginable form of jewelry be it be the usual necklaces, bangles, and earrings or exotic items like ear cuffs, lip rings, and toe rings. Since most indigenous tribes were relatively poor or were frequently plundered by colonial powers, their selection of raw materials was humble and was limited to shells, claws, jaws of animals, ivory, wood, etc.
India has been endowed with a rich tribal culture, which despite modernisation has kept its unique traditions and values intact. Tribal Jewelry still bears a definite earthy charm. On the other hand, being different from the conventionally manufactured jewelry items, the rarity of ethnic jewelry is cherished by many.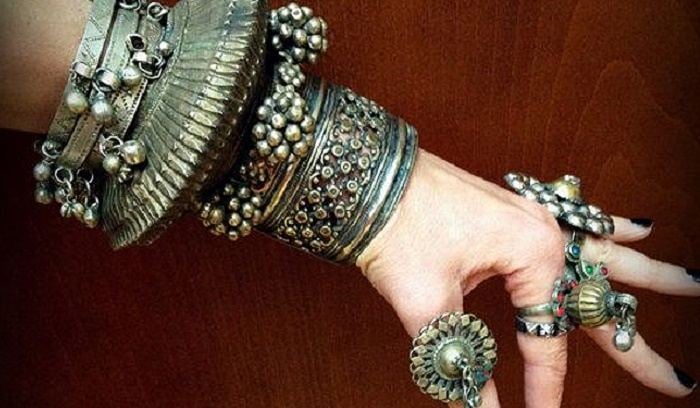 Even in the olden eras, there were ornaments to prettify every significant part of the body. This is evident from the fact that several elaborate handmade ornaments had been excavated from Mohenjo-Daro and other sites of Indus Valley Civilisation. Also, Mahabharata and Ramayana are replete with elaborate descriptions of ornaments and the mystical powers they possessed. Further, there are several accounts stating how the royals of ancient India hired ingenious craftsmen to craft exquisite pieces of jewelry. Some of these jewels have trickled down from one generation to another, retained their own identity and have become an eternal part of familial treasures. These pieces have become priceless over time.
The thought of wearing real jewelry stuff at the occasion to feel prestigious, no longer persists. In fact, it's the time when oxidized jewelry is enthusiastically accepted by all status groups of the society. The loveliest part of it is that you can team it up with any type of outfits, be it traditional or trendy modern look. It always adores on any look you want to go with. Neither it's a burden on your pocket. You can always have multiple pieces without compromising on your budget because they aren't so expensive
Oxidised jewelry is back in trend with all its charm and fine craftsmanship. The beauty of black silver is often related to that of moons glowing spark! And the fact that oxidised jewellery gels with all skin tones makes it even more fascinating and hence enhances the charm of it. Because of its increasing demand and constant growing popularity, many artisans come forward with excellent innovating pieces in terms of designs. Ranging from neck pieces to earrings or nose spins or bangles or bracelets, each of them are favourites for all women who wish to have modern ethnic look or classy indo-western look. All age group females love to flaunt themselves in these gorgeous set of lovely oxidised pieces whether they are in college or at work or decking up for a party.
One more great quality of this type of jewelry is that it can be found in abundance variety, designs and colors. Hence, could be easily mixed and matched the way you want it to be and is favourite among the fashionistas because of this reason.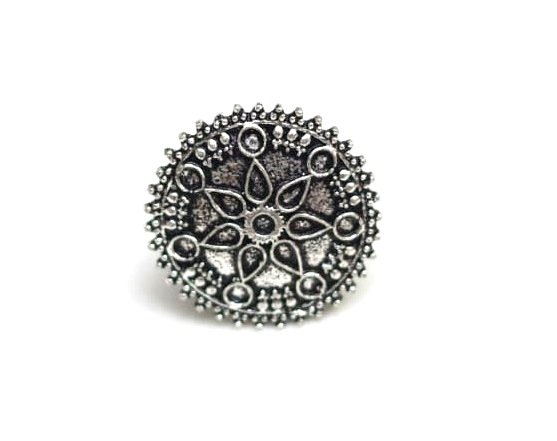 Oxidised jewellery with intricate thread work is becoming popular because of its versatility. Everyone loves to look stylish and wishes to stand out in the crowd with million eyes upon them. Isn't it? Just choose the right jewelry pieces for that right eye catchy look. Oxidised jewelry is crafted into many things like anklets, armlets, maang tikka, wristlets, kadas, toe rings, earrings, necklaces, malas …what not…!!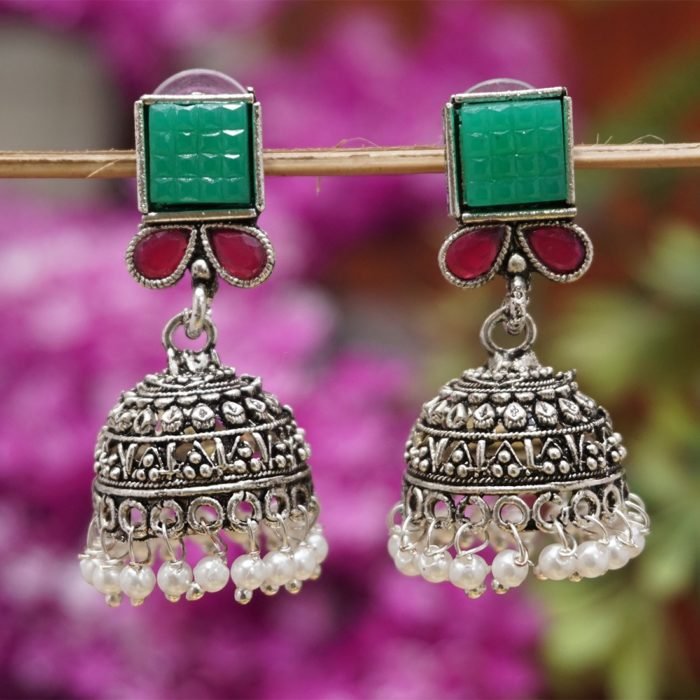 Just take few precautions while using this beautiful art jewelry and you can adore it for a longer period. Preserve and maintain it with good care and they will last long as your real gold ones. Keep it in airtight boxes covered with cloth or store in zip lock pouches so they don't get spoiled with dirt and their polish remains intact in humid weather. Just refrain it from soap, water, sweat and perfumes and enjoy the beauty of these jewelry for years